USE OUR NEW ADDRESS: http://www.turkishlanguage.org/


[Start Page] [Turkish language] [Turkish language teaching in France] [Turkey] [FAQ] [What's new?] [Site Map]
---
How to use shortcuts for the Turkish characters with WORD 97
(As I don't have an English version, the screen copies and the explanations I have included are from the French version. I would very much appreciate if one of the readers of this page could send me the screen copies and the corrected explanations in English.)

If the Turkish fonts are available on your computer but you don't use a Turkish keyboard, you will have difficulties to type the Turkish characters. If you want to use a wordprocessor such as WORD 97 (or WORD 2000), you can affect shortcuts to Turkish characters the following way:

In WORD 97, chose 'Insert', 'Special Characters' as shown on the image below: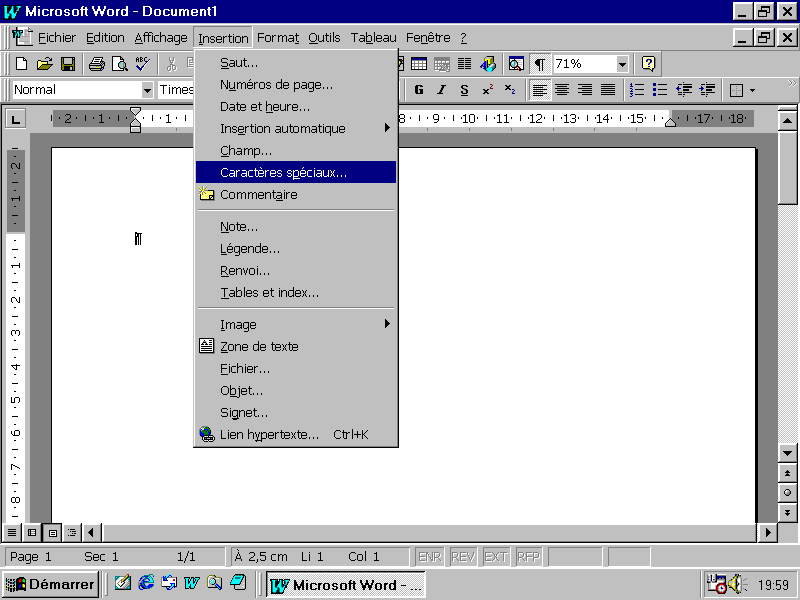 Click on the 'Symbols' button if it is not in the foreground. Chose the '(normal text)' font. This will allow you to change the font of your texts without losing the Turkish characters you have typed. Select Turkish character '­' ans click on the 'Shortcut' button. A dialog box appears.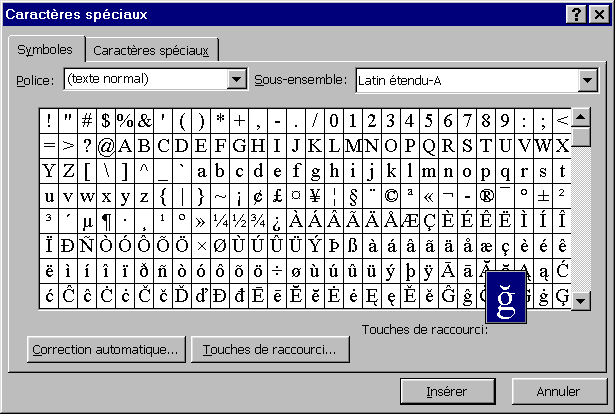 The key combination you will type will be associated with character '­' in WORD.
You can type 'Alt' + 'g' for example. Click to the 'affect' button. The messages in the dialog box change to become: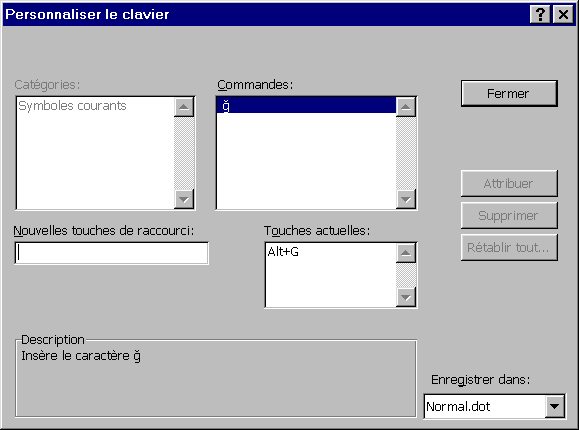 Click on the 'close' button to close the dialog box. Chose another character from the Turkish alphabet and affect it another shortcut. I have been using the following shortcuts for many years and am very satisfied with them. You can use them if you like: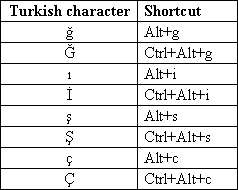 When you have finished associating shortcuts to Turkish characters, click on the 'Close' button of the 'Special characters' dialog box.
When you quit WORD 97, it may display the following message. Click on the 'Yes' button to be sure that your associations are preserved.

To contact us, click here
---
[Start Page] [Turkish language] [Turkish language teaching in France] [Turkey] [FAQ] [What's new?] [Site Map]
Last updated on January 27, 2002